Brief Resume of Dr. Rajiv Ranjan Prasad, President (2013-14) IMA Bihar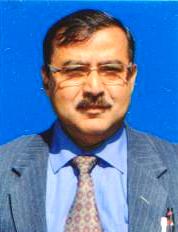 Dr. Rajiv Ranjan Prasad ,
MBBS, MRSH (Lon) , MDEH (Hons)
M.D (Pat), Ph.D (Pat)
Professor of physiology
Patna Medical College, Patna
Phone -9334118112, 9431049548
Resi: A/145-Kankarbagh Housing Colong, Yashoda
Devi Path, Patna-800020.
Email ID-pmchrajivranjanprasad@gmail.com
DR (Prof) Rajiv Ranjan Prasad after obtaining MBBS Degree in 1979 did his M.D. and Ph.D. in Physiology From Patna Medical College under patna University. Having Published many Papers in National and international Journals. Dr. Prasad is a favoured teacher among the under graduate, postgraduate and research students.
Presently posted as professor of physiology at Patna Medical College, Dr Prasad is also principal of Govt. Pharmacy Institute awarding B.Pharma Degree from Aryabhatta Knowledge University, Bihar.
Dr. Prasad has also worked as member, Pharmacy Council of India. Inspector, Indian Medical Council, Member Drug Advisory Committee of Govt. of india, Member Syndicate Patna University, Member senate and academic council of patna University.
Dr. Prasad Has also worked as Editor, Patna Journal of Medicine, Chairrman of the Editorial Board , Indian Medical Journal, Calcutta. On IMA front Dr. Prasad Has adorned earlier the chair of the Vice-President, IMA, Bihar , General secretary Academy of Medical Specialty, Member of National Committee of Drug and Medical equipments, Govt of India, New Delhi .
Academically he has the honour of being the external and script examiner for MBBS, MD, ph.D, BDS, MSc. In the universities all over the country.
He besides being a member of several national and international is also presently the Genial Secretary of Bihar State Medical Teachers Association.